[mL] Animated TechPills (Blue)
About
Specs
Changelog
Reviews (0)
Futuristic pills, the bottle is made of blue electronic circuits with leds that 'glow' in the dark, it also has a color sequence animation, and a solar cell on the lid that powers the leds XD Thanks to: k1chwa: That helped me with command lines for reflections of the pills bottle. Splinks: That kindly helped me understand the VTM command lines and fix a problem I had with the 'normal' textures. UPDATE: I reducted its weight, but it didn't loose quality! (29MB>10MB) Logo by: astroplus Translation by: Shanny Skin mod by: Crissans NOTE: please delete the FIRST vpk '[mL] TechPills (Blue)' from the addons directory (: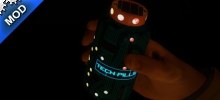 Last Updated:
04/24/12
Version:
1.1 (Complete)
Views:
6,709
Videos for [mL] Animated TechPills (Blue)
Be the first person to provide a video for this add-on!
Share [mL] Animated TechPills (Blue)
More addons by Crissans