1st thing 1st - big thanx to mr lankey for bringing original model and texture to l4d2! this would not be possible with out his original release. CANT GET ENOUGH OF THAT SWEET DUFF i replaced can texture and reedited the vmt of mr lankeys dr pepper/pain pill mod to make look like a duff DO NOT REDISTRIBUTE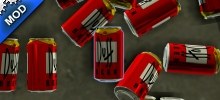 Last Updated:
06/14/12
Version:
1.1 (Complete)
Videos for Duff for Pain Pills
Be the first person to provide a video for this add-on!
Share Duff for Pain Pills
More addons by k1chwa