About
Specs
Changelog
Share
Would you not like more the old and boring sound of the Spas12? Then this sound upgrade will help you. This MOD replaces the old spas12 sound, by the sound of the tactical shotgun.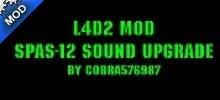 Author:
Kevin.L (Cobra576987)
File:
spas12 sound upgrade.vpk
Last Updated:
04/28/12
Version:
1.0 (Complete)
Views:
4,715
Be the first person to provide a video for this add-on!
More addons by Cobra576987