About
Specs
Changelog
Share
Weapon script that gives the AK-47 a 30-round magazine (as in real life) and increases the rate of fire. In my opinion, this mod makes the AK feel more like an untamed beast; harder to control and much more on the 'spray' side when it comes to firing. The damage has not been changed. It should go without saying that this only works in singleplayer, unless the server also has the addon.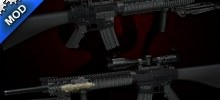 File:
ak47_hypermetal script.vpk
Last Updated:
05/05/12
Version:
1.0 (Complete)
Views:
17,324
Be the first person to provide a video for this add-on!
More addons by Doktor Haus