PAYDAY: The Heist Survivors (L4D2 Survivor...
About
Specs
Changelog
Share
I saw somebody else uploaded these guys, so I figured I may as well release the version I made a few months ago. Includes first person arms, all HUD icons, name changes, unique suits and ties, and talker changes (details in change log). THIS VERSION WILL ONLY WORK PROPERLY IN SINGLE PLAYER AND ON LOCAL SERVERS HOSTED BY SOMEBODY WHO HAS THE MOD INSTALLED. Anybody in that server who doesn't have the mod installed will see the survivors they would normally see (default or otherwise) but with broken animations. ---- CHECK THIS ---- Hey, you can get the PAYDAY 2 character pack now. It's a lot better than this one. It's linked below.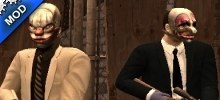 Author:
OVERKILL Software/Lillwasa/Salad
File:
payday_survivors_l4d2_single_player.vpk
Last Updated:
06/11/12
Version:
1.0 (Complete)
Views:
27,202
Be the first person to provide a video for this add-on!