About
Specs
Changelog
Share
Just Spit while you're still ahead... Brand new realistic skin for the Spitter. Includes new acid marks on throat, more blood stains, drips and splatters, desaturated skin tone, more gore detail on face, and an overall more realistic look for the Spitter...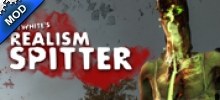 File:
realism pack [spitter].vpk
Last Updated:
05/20/12
Version:
0.1 (Complete)
Views:
21,085
Be the first person to provide a video for this add-on!
More addons by NuclearEngagement