About
Specs
Changelog
Share
All of your nightmares, in one simple VPK... Brand new realistic skins for the Special Infected. Includes Hunter, Boomer, Boomette, Smoker, Charger, Spitter, Jockey, Tank and Witch, all re-created to provide the very scariest L4D2 experience...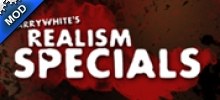 File:
realism pack [specials].vpk
Last Updated:
05/20/12
Version:
1.0 (Complete)
Views:
58,154
Be the first person to provide a video for this add-on!
More addons by NuclearEngagement