PAYDAY: The Heist Survivors (L4D2 Survivor...
About
Specs
Changelog
Share
This version will work properly on dedicated servers. It also doesn't include the custom talkers. Hey, you can get the PAYDAY 2 character pack now. It's a lot better than this one. It's linked below.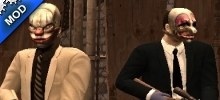 Author:
OVERKILL Software/Lillwasa/Salad
File:
payday_survivors_l4d2_multiplayer.vpk
Last Updated:
06/11/12
Version:
1.0 (Complete)
Views:
32,683
Be the first person to provide a video for this add-on!