Now here's a mod you all almost never got to see due to a hard drive wipe of mine. It wasn't until recently I discovered these guys were backed up on an old thumbdrive of mine. So everyone welcome to the game Takeo, Nikolai, Dempsey, and Richtofen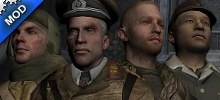 File:
L4D2 CREW_Nazi Zombies Heroes.vpk
Last Updated:
07/01/12
Version:
1 (Complete)
Videos for Nazi Zombie Survivors
Be the first person to provide a video for this add-on!
Share Nazi Zombie Survivors
More addons by splinks