About
Specs
Changelog
Share
Update: Fixed melee weapon glitch Update: Fixed online animations, added vgui textures Replaces Rochelle with Heather Mason from Silent Hill 3 in her regular outfit. The model uses Zoey's animations so the special animations that play at the beginning of some campaigns are absent. Has facial animation, boomer bile texture and first person arms.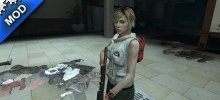 File:
heather_rochelle.vpk
Last Updated:
08/19/13
Version:
2.1 (Complete)
Views:
46,311
Be the first person to provide a video for this add-on!