Heather Mason Alternate Appearance
About
Specs
Changelog
Reviews (5)
Alternate appearance of Heather Mason from Silent Hill 3. Requested by frankwest. Model uses Zoey's animation. Includes facial animation, boomer bile and first person arms.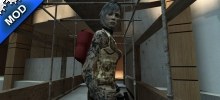 File:
heather02_rochelle.vpk
Last Updated:
07/10/12
Version:
1 (Complete)
Views:
19,993
Videos for Heather Mason Alternate Appearance
Be the first person to provide a video for this add-on!
Share Heather Mason Alternate Appearance
More addons by Pajama911