About
Specs
Changelog
Share
:3 The power of Lovey Dovey Magical Friendship has come to warm the hearts of of the L4D World with the help from some of the girls from the MLP Universe! Even tho I may not be a part of the Brony herd you all are fine in my presence.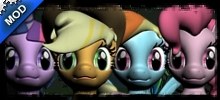 File:
L4D2 Crew - MLP Survivors.vpk
Last Updated:
08/11/12
Version:
` (Complete)
Views:
80,108
Be the first person to provide a video for this add-on!