About
Specs
Changelog
Share
this is the first all zoey mod that use the defualit valve zoey model and it replaces bill nick coach ellis rochelle louis and francis but is dont replace the voice for bill nick francis ellis louis coach but it replaces rochelles works with all zoey skins not custom models has all icons for hud incap icons. reed the changelog for stuff you need to know about what can make this not work right.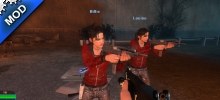 File:
all zoey survivors_l4d2.vpk
Last Updated:
08/29/12
Version:
1 (Complete)
Views:
11,686
Be the first person to provide a video for this add-on!