About
Specs
Changelog
Share
Shows up legacy server like other Source Engine games. Actually taken from the manual patched version of the game(or pirated version of the game). Credit to the author who created this. P.S. : If you ask me, I do own Left 4 Dead 2 and bought it legally. If you want to add me as your friend, cloudless_day is what to search.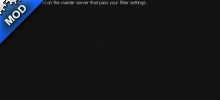 Author:
KKHfai, rahmanchannel
Last Updated:
11/17/12
Version:
v1 (Final)
Views:
5,213
Be the first person to provide a video for this add-on!