About
Specs
Changelog
Reviews (0)
Infinite reloads for the M60 belt-fed machine-gun. Please note that it still discards when empty, so you have to manually reload it. I couldn't find the default M60 script, so the damage characteristics are the same as for the default G3-SG1 'military sniper rifle' because they use the same 7.62x51mm ammunition IRL.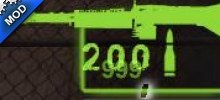 Last Updated:
12/22/12
Version:
1.0 (Final)
Views:
6,922
Videos for M60 infinite ammo
Be the first person to provide a video for this add-on!
More addons by Sableagle