About
Specs
Changelog
Share
These are custom crosshairs in dot shape, based on 'REDNBLACK's' work. I plan on removing the melee crosshair in the future versions. The following colours are included: Blue, Green, Red, Yellow, Orange, Cyan, Pink and White //It seems like L4Dmaps won't allow me to upload a archieve with all the crosshairs, so I'm just going to release the green one.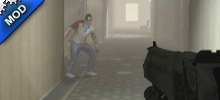 File:
crosshair_dot_green.vpk
Last Updated:
01/10/13
Version:
0.1 (Beta)
Views:
10,992
Be the first person to provide a video for this add-on!