About
Specs
Changelog
Reviews (0)
A survival map set in an RV park closed off to the public. A few hidden goodies are scattered around each of the RV's and the lodge; see if you can find them! Our first survival map posted by nP.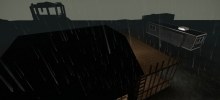 Author:
nonPareil Institute
Max Players:
Not Specified
Last Updated:
02/28/13
Version:
1.0 (Complete)
Views:
3,062
Videos for nP.SilentLodge
Be the first person to provide a video for this add-on!
More addons by npitx