Released more than three years ago, so it's pretty basic, our first map :) You must hold on in a bunker armed to the teeth. You have more than ordinary weapons. Close the doors of the bunker for a while, press a button to burn a lot of zombies, and activate neurotoxic gas which is lethal for zombies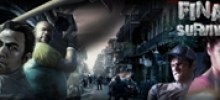 Max Players:
Not Specified
Tagged:
Barricade,
L4D2 Survivors,
l4d2,
traps,
creating worlds,
fps,
weapons,
hardcore,
reward,
final survival,
Last Updated:
02/27/13
Version:
2.1 (Final)
Videos for Final Survival
Be the first person to provide a video for this add-on!
More addons by CreatingWorlds