Reviews for Stenches_reworked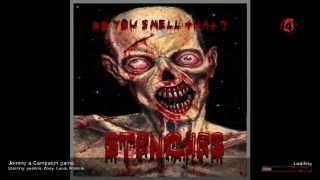 I enjoyed, thank you.

I finished your campaign, playing it for the first time, in Expert Single Player in like 3 hours & 4 Restarts. You can check my game play through this YouTube playlist that consists of 4 videos, a video for each chapter. Check the link below:

h\t\t\ps://youtube.c\o\m/playlist?list=PLOFtKLS6rEvlmMNPLaQraQXLwTm6Zhsgp

Copy the link above, paste it to search bar, remove \ from h\t\t\ps & c\o\m, then press Enter.

I'd be grateful if you use my video as a guide on your map. for those who want to try this map to see how it's handled by a new campaign player even if it's played in Expert Single Player Mode.

The game statistics are not accurate, especially in terms of hours and restarts because the game kicked me out in chapter 2 after Restarting the first chapter once and was on the second try of the second chapter. 

------------------------------------------------------------------------------------------------------
Ch1: seemed long, but it was good in most ways. That minefield was a really nice touch and it was the first of its kind to be real XD and it's the reason why I restarted first chapter after I died there and 2 bots once we stepped into that area. Too many supplies that needed to be lowered in quantity although I loved it much to have pretty enough just in case any bad scenario takes place :) Loved that we could open those cupboards to find  extra supplies. I luckily encountered only 1 tank once by gate and another one close to the first block we go across. We will totally meet 2 tanks as there is one last tank confirmed by the safe room of the end of this chapter. Still, pretty enough space and supplies to fight and kick a$$e$.
------------------------------------------------------------------------------------------------------
Ch2: made the campaign harder and that chapter should have been called "The Hunters Inn" because we were literally getting attacked by a hunter coming from the holes above us inside the cave so the name perfectly fits that chapter not chapter 3. That falling bridge is another nice touch that will get any new campaign player. The panic event was annoying, but managed to do it and pass it on both attempts. A long chapter with 3 panic events as the last panic event is right before safe room when "Here they come" message shows up for no reason. But still enough supplies to handle it. The gas inside that room or on the way was fatal and I restarted the 2nd chapter for that gas on the way as I didn't know that it was fast to kill that way. I luckily noticed the valve there in front of us and did it, but yes, requires high HP percentage to handle the HP loss while crossing. The music played while corpses are dancing made me laugh hard and it's really nice touch. That music from "Dark Carnival", right? The tank stuck inside that sealed room got me twice as I thought it was just stuck due to some bug or if I move closer, it will get out and get us all so I stayed away until it died on its own by fire. The 2nd panic event of door getting opened after the valve closing area is special as we don't just open a door, but shoot those gas cans too to breakthrough the wall.
------------------------------------------------------------------------------------------------------
Ch3: was harder in way for we move into swamps while it's raining and zombies almost never stopped as we were easily seen every few meters we walk. The game didn't encounter a bug like the bug other players reported that we get kicked off the game when we move closer to that light post. The game was just pausing and resuming on its own, which was annoying. Entering a house, the first panic event started, but no idea why. Afterwards, that laser line looked like a trigger to me that I thought to be a bomb exploding so I kept pushing the bot towards it to take all damage, but it was another horde trigger so I think it was a trap if we keep running when the first panic event starts to have it doubled on us, but the minigun and that spot up there was a good spot. Yes, we lost much HP, but it was all fine. That final house we entered was like a maze and it made it longer for us to move although it was just a matter of moving to the other side, but really good job. The last panic event was and I took a bad spot, which was up there where we start it and I managed to survive and help bots be back to the former status. Many supplies worked well for us and the rest was a piece of cake as we found that bile bomb just like the 2nd chapter where we could get more than 1 bile bomb from 1 spawned bile bomb and it was all fine. That smoker spawning from a tree was the same as smoker spawning by over the tree in ch2 right before entering the cave :) Nice one. 
--------------------------------------------------------------------------------------------------------------------------------------
Ch4 / Finale: was one of the longest finales because of the long way we have to go through until we reach the finale area. I restarted it once because of that area where lights are off and once we moved close to that elevator, which is supposed to take us back up to ground, hordes were startled and it was a hard fight for me to do it all alone, and I even died after I went up the elevator as I was with only 1 bot revived with defibrillator. Again, like 3 panic events are there on that finale besides the finale itself as the first one is the moving platform that we start after we leave safe room so we all know where to camp until it comes :) The second one is the one I mentioned above where all bots died and I partially survived, but died in the end. The 3rd is that one when we open that door of that military facility after elevator as hordes will come again from outside and from behind. However, I can say this finale is one of the easiest finales because of the space we got to fight, enough supplies and ammo pile next to minigun, which is really good. We still got some intense tank fights, especially the first tank fight. Zombies rarely came from sides, but it was all handled. 
----------------------------------------------------------------------------------------------------------------------------------------
I loved your map and it was just pausing sometimes like freezing, which was really annoying plus getting kicked off game so I give 4/5 stars. Thank you and please keep it up.

Review

Honestly nothing terribly wrong with the campaign overall, in fact I can't say there was any problems I encountered. There was plenty of supplies to deal with the many hordes and bosses the mapper throws at you, which is great. Maps are large, I think that the finale shouldn't've been large as it will take a bit of time to get back to the actual finale. The only thing I can say is, the campaign could've used some uniqueness, as playing through this campaign with basically nothing changing can get pretty dull after a while. And that's all I can say!

This review was posted before the latest release.

Great potential but was utterly frustrating, maps dragged

PROS
- 'Hidden supplies in closets, ect
- Events!
- Land mines
- Supplies were well placed
- Directions were OK


CONS
- Finale was way too long before reaching the radio
- My team and I found the maps to be quite boring overall, nothing really made it, its own
- A lot of repeating... elevators in finale, corridors in map 1, long periods in sewers with zombies from all directions
- Tanks seem to always glitch and then die
- If tanks didnt glitch and then die, there were sometimes 2+ tanks a map, bit ridiculous, especially for expert
- Dem finale boat turns tho, 10/10

OVERALL
Just was not enjoyable. Clearly a lot of effort has gone into this map which is great, however, the environment, constant events, hordes, long maps, multiple witches/tanks a map just gave a repetitive impression amongst my team and I and we just wanted to finish it. 
Despite this map not being my cup of tea and I wouldn't recommend it to others, I see this dev has potential and would still be interested to try out any other campaigns by them

This review was posted before the latest release.

This comment was posted before the latest release.

Thanks, just finished a play-through and holy crap there are a lot more infected spawning now. I see a big difference.

This comment was posted before the latest release.

Just fine until the finale

That was certainly frustrating...After spending an hour and a half on the game with 3 friends, we got stuck in the elevator at the rescue. We couldn't get out of it. Went back to lobby to restart the finale, but same issue. Enjoyed the map until that point, REALLY??

This review was posted before the latest release.

Potential and neat mapping

Completed in expert realism with friends. Not gonna review about how the bots are doing.

Just completed this lately but sadly didn't manage to record our first playthrough. Frankly I was kinda surprised how well-made this map is. I was a little skeptical to try on this at first 'cause of the other map made by goanna, the death-island, which is a puzzle type of map. But I saw it's put onto the list of the top 50 custom map by Olde custom campaign guide, rated quite high that time if I'm not wrong, so I gave it a try. Glad I did. It was pretty fun to run through. The environment was kind of refreshing to play and didn't see any textures in error, length was pretty decent and not repetitive. And I felt the style and the theme of those maps also fit one another. Finale would have been great if the obvious god spot on the rooftop didn't exist.

A couple of things that I think if improved, will greatly increase the fun of this map and make this map much better.
First thing came into my mind was definitely the scripted hunter everywhere. Good news is I didn't find any wanderer or horde spawn in line of sight or spawn after we've cleared an area, that's a really good thing 'cause I hate when maps do that. Bad news is there was way way too many instances where the hunters, if I'm not wrong scripted hunter, spawned out of no where, either right on top of us, or right in behind us, and even in line of sight, they just spawned and scratched the hell out of us, which was super annoying.

Second thing would be the excessive health supplies. Supplies were way way too many especially on the first map, we've bypassed so many extra health kits and defib even though there wasn't any crescendo or scripted tank beforehand. The excessive supplies made the first couple of maps kind of too easy to play. Weapons supplies was ok though.

Third thing, why most of the windows look possible to pass through in size but we weren't able to?

For each individual map, just a couple of things to point out in each map:

First map: Wonder if it's just us, but we've fought 3 tanks in the first map. Good thing was those tanks spawned on tank-friendly spot to fight on.
Second map: Can't remember anything but there's a plank that we could pass through and the plank broke when I stepped on it the first time, I fell down and died. ;_; There wasn't any sign or game instruction to prepare us for that? Good thing the defib was everywhere.
Third map: Enjoyed it but some events were kinda confusing what to do. Think some sign or game instructions will help.
Finale: After you passed through the big gate into the finale area, on your right hand side the first building, if we go to the roof through the window, the whole roof was jesus spot. We skipped basically the whole finale camping there.

Overall I'd say pretty good, might come back to do another run next time after more updates been made to the map. Good job on creating the map! ;D

This review was posted before the latest release.

Thank you so much for helpful review. All issues you mentioned I will address.  I hadn't done much over the couple of years because I've been dealing with prostate cancer. and side effects of the radiation. Glad to say I'm feeling better and am cancer free. I'm not sure what the deal is in the first map with hunters spawning so much. I noticed it too and I didn't put them in. The tanks I put in in the first map have been removed, I had two tanks at the same time the other day. You will find many hunters in the third map, "Hunter Inn" hence the name. I'll be posting ab update in a couple days with these issues addressed. Thanks again, it's reviews like yours that help make better campaigns.

This comment was posted before the latest release.

Good, Creative, Long Campaign

Stenches_reworked (sorry, I never played the original) is a four-map campaign that takes place in some woods, caves, military industrial facilities, and urban environments. This campaign is very long, very creative, and has a lot of interesting and quirky things about it. I personally think it tries to cram in too much, and there are a couple spots where it's not quite clear where to go; on the other hand, there are a couple multi-path options, which I thought was great. The aesthetic is all right, although there are some places where it looks a bit brute force (such as jarring textures next to each other). It's well-supplied and decently optimized, although the bots do get stuck occasionally, such as on ladders in the ocean in map 4. The more you play, the more you'll find this campaign silly, whether intentionally or not. The finale is great in this regard, and it's also fun to disturb witches when you're atop a high ladder. Some of the textures look very primitive but I don't think the campaign was necessarily going for a totally realistic look. I enjoyed the gameplay with the sort of tongue-in-cheek nature of the art design. I also liked that the campaign felt substantial but didn't feel needlessly long. I also enjoyed the exploration aspects because it often paid off. Overall this is some pretty creative stuff, and even though it could look better, it's enjoyable for its originality and lack of contrived segments. There could be a bit better directionality (such as in map 3 after hitting the switch in the tower), but it's fun the way it is now. Recommended.
/
Some notes for the author: We didn't really understand what the propane tanks were supposed to be for in the one section (I think map 2) where there's a numerical listing of them 1-9. In map 4, there's an area where the ground isn't placed properly right when you get out of the lift thingy that takes you across the chasm. The first apartment section in map 1 with all the blocked off doors felt needless, and the starting area felt random to start at; I'm also not sure if it's supposed to start with a tank encounter but that's what happened. Otherwise, good job.

This review was posted before the latest release.

No problem, that's interesting stuff there. Good job, we had fun with it!

This comment was posted before the latest release.

Thanks for your review; this was my first attempt at designing a campaign. The buildings in the first map and in map 3 were replicas of buildings on the Fort Drum Army base here in upstate New York.I created some 300 textures for this campaign many taken right from the actual buildings, which explain your texture curiosity. ( creating these 300 textures actually equates to 900 since each file requires 2 more files in order to get them to work in-game) The area where those gas tanks are; that area is the first research facility. The rooms are holding cells strong enough to hold any infected, including the tank, for study. The numbers on the wall reflect the rooms where these were to be used. The tank you encountered at the start was director produced. I encountered two tanks at the gate yesterday at the same time side by side. This is the chance we take when deciding to add our own special infected. These gas tanks were originally planned as a task where players would have to go to each room and collect the tanks and place them under they're corresponding numbers before the door switch could be activated. As you noticed this was not the case since I decided to go with the present door configuration. Thank you for your constructive and helpful review

This comment was posted before the latest release.
End of results.