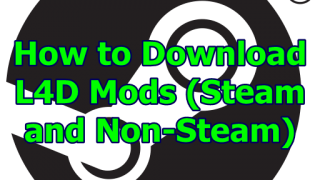 How to Download and Install L4D Mods (Steam and Non-Steam)
Sharing is temporarily disabled
Today I'll show you people how to download and install L4D mods (both Steam and Non-Steam Mode)

Here's the instructions for them:
* Steam:
1. Go to your Steam Library and find your game "Left 4 Dead 1 / 2"
2. Right-click and select "Properties". Click the "Local Files" tab
3. Select "left4dead/left4dead2" folder, then find the "addons" folder
4. If you want mods, then you can browse to the "workshop" from Left 4 Dead 2 (Unfortunately, Left 4 Dead 1 has removed the workshop mods, the main reason is, valve already ported the maps of the L4D1 campaigns and survivors to the L4D2 game.)
5. Find the mods you like and click "Subscribe". You'll see on the Downloads tab of your Steam
6. Once it finished. It will appear on the folder "left4dead2/addons/workshop/your_subscribed_addons"

* Non-Steam:
1. Open your Google Chrome and go to "www.gamemaps.com"
2. There's alot of L4D mods in non-steam, so you'll manually download and installed it.
3. Find a mod you like and click "Download" (Keep clicking the download button until it downloads the file)
4. Put your mods in the addons folder. Here's some following directories:
- C:/Games/Left 4 Dead/left4dead/addons
- C:/Games/Left 4 Dead 2/left4dead2/addons
- D:/Games/Left 4 Dead/left4dead/addons
- D:/Games/Left 4 Dead 2/left4dead2/addons

5. Done! Open your game and check your installed mods on the addons in-game. (If your installed mod doesn't appear in the addons while in-game. Your mod is in the wrong direct folder of the addons.)

Music: "Exit the Premises" (Kevin MacLeod)

Enjoy! Have fun for your mods.
Don't forget to subscribe to my channel. Please like this video and share this to anyone.
Feel free to post comments below, and I will respond frequently to your questions.