About
Specs
Changelog
Share
This is a pack designed to get your TF2 all about the TF2 beta. This includes all beta style classes, beta styled Team icons, beta style posters and wall paintings with beta team styled icons and more. NOTE: There is two TF2 Beta's: 2007 and 2009. The 2007 is the one that I am releasing.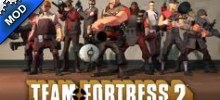 Author:
Gigan75pcp/1337gamer15/revenant100
Last Updated:
08/30/12
Version:
0.2 (Beta)
Views:
10,424
Be the first person to provide a video for this add-on!