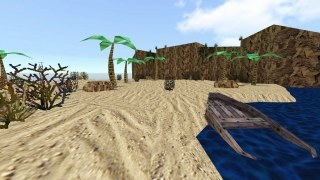 Lost Atoll
You are downloading as a guest.
The extended gallery contains images from all community members.
Title:
    Lost Atoll

Description:
    During a boating trip, a storm capsizes the original
    vessel you were on, leaving you with a rickety lifeboat


    in the middle of a storm.

    After drifting all night at sea, you land on a deserted
    atoll just as your lifeboat gives up its seaworthiness.
    The island you find yourself on is small and without much
    in terms of resources.

    Chances of survival on this island look bleak, but
    something isn't quite right: there's an artificial feel
    to the sand and the flora. You don't recall seeing any
    islands on the map you had before capsizing. You also
    swear you can hear a faint hum coming from somewhere...

Date:
    June, 2020

Filename:
    lost_atoll_xn_part01.bsp (this map)
    lost_atoll_xn_part02.bsp
    lost_atoll_xn_part03.bsp

Author:
    XNtricity

Additional Credits:
    Phoenix, for helping me alpha test this thing before
    subjecting the rest of our group to it. The Gang: Toast,
    SiberX, Cent, Indiana, and Ace7 for playing practically
    the entire repository of escape maps available for TFC
    together as a group over several years: it helped push me
    to create my own map.

* Play Information *

Deathmatch:
    No
Teamplay:
    Yes
Players required:
    Two, but more can be helpful
New sounds:
    Yes
New graphics:
    Yes
New music:
    No
Secrets:
    Yes, find all six hidden buttons to reveal a 6-digit code
    needed to access an extra challenge!

* Installation *

Unzip into your half-life/tfc directory.

* Construction *

Base:
    None

Build Time:
    About a month and a half of design and mapping, then about
    two weeks of alpha and beta testing.

Compile Time:
    About ~5 minutes in total for all three maps on an i5 4670k

Editor(s) used:
    Worldcraft 3.5
    Wally

Known issues:
    Map supports up to 8 players at once without causing spawn issues
    Flashlight is not necessary but can be helpful!

* Credits *

Map design and construction by Michael Kuzel.

Skybox by "The Chayed/KIIRA".

* Distribution
06/29/20
========

Initial release. 

Map supports up to 8 players at once without causing spawn issues. 

it has a little something forever everyone

classic escape shenanigans aplenty
File Details
lost_atoll_xn.zip
(3.4 MB)
View Changelog
Version 1.0 Final
Feedback
Be the first to post a comment!