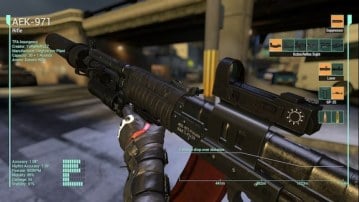 TFA Base
You are downloading as a guest.
The extended gallery contains images from all community members.
ENG:TFA BASE:A rich, thoroughly tested feature set including:


Holographic HUD, reminiscent of FA:S2
Viewbob, with tweakable sensitivity.
Ironsights, nearwall, sprinting, holstering, and many more weapon dynamics.
Movespeed is changed if you're holding a TFA Base weapon, varying with each weapon and your current actions.
Dynamic crosshair and accuracy. Quickscoping is no longer an option, as your accuracy will actually decrease until you're fully sighted in. The crosshair is programmed with smooth animations, and will fade rather than disappearing when you sight in.
Dynamic spread, like in CS:GO, means that spraying is no longer an option except in close quarters or with well controlled guns.
Advanced animations using quadratic interpolation. Animations like sighting in or lifting up your gun when you're cose to a wall are no longer robotic, and ease in and out like real human motion.
Idle and breathing animations.
Holstering animations. This adds a tactical decision to getting out a big gun.
Your computer, your choices. Each individual user can configure things like the crosshair, ironsights toggle or hold, and others. You aren't forced to play like everyone else.
Custom impact effects add a beautiful, realistic touch to gunfights.
Dynamic holdtypes for running and ironsights. In thirdperson, your character will put your weapon down when you sprint, and raise it to their face when you aim!
Smoke trails and muzzleflashes, properly networked and predicted.
Working muzzle flashes when scoped in.
Silencers, complete with animations and proper prediction. These decrease the size of your muzzle flash and play a quiter sound.
Selective fire, toggleable using E+R.
Safety mode is toggleable using Shift+E+R
Interrupt reloading on shotgun-style reloads
RUS:извинтите за неимением русского описания под этим аддном 😓.
04/30/23
========

RUS:мод добавлен! Не стесняйтесь писать отзывы!
ENG:mod added! Feel free to write reviews!
File Details
View Changelog
Version 1.0 Complete