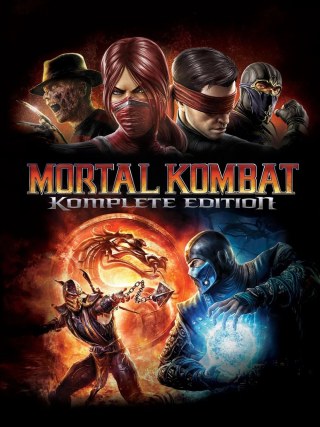 Mortal Kombat : Komplete Edition
(2012)
This Komplete Edition is a re-release of the original game. It includes the full game, alongside all previously released downloadable content. It also includes the Mortal Kombat: Songs Inspired by the Warriors album (including a bonus track) and the 1995 Mortal Kombat movie for download, via the PlayStation Store or Xbox Live Zune. For the PS Vita and Windows this is the first release of the game. It has the same content as well as new costumes and a new Challenge Tower (Vita version only) not featured in the versions for other platforms.
Armless Kombat 911 911 Blocking Disabled 020 020 Breakers Disabled 090 090 Dark Kombat 022 022 Double Dash 391 193 Dream Kombat 222 555 Enhance Moves Disabled 051 150 Explosive Kombat 227 227 Foreground Objects Disabled 001 001 Headless ...

Move List Goro Fatality 1: (Torn Apart): Up, Up, Up, Up, FP Fatality 2: (Body and Limbs Rip): Up, Up, Up, Up, BP Stage Fatality: Back, Down, Forward, Block Babality: Down, Down, Down, Down, BK Kintaro Fatality 1: (Quad Rip): Up, Up, Up...

This mod does the following: Adds the bosses as Playable Characters Uses the New Boss Portraits and New HD vs pics. Adds a Ladder mode ending animation for Goro, Kintaro and Shao Kahn Adds The Hidden "Classic" characters to the playable ...