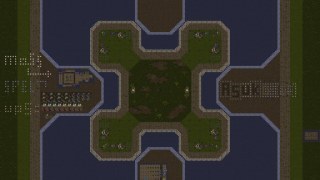 Footmen Frenzy V
You are downloading as a guest.
The extended gallery contains images from all community members.
Official guide here: https://www.gamemaps.com/guide/161



Footmen Frenzy, an 8 player adaptation of the original 12 player hero rpg arena battle game from WarCraft 3.

11 Heroes, 5 spells per hero, 7 footmen levels, 3 potions at shop including health potion, mana potion, and teleport home.

Hero learns a new spell every 5 levels.

Level 0: Battlecruiser (B, 200 gas)
Level 5: Dropship (D, 200 gas)
Level 10: Wraith (W, 300 gas)
Level 15: Valkyrie (Y, 500 gas)
Level 20: Science Vessel (V, 600 gas)

Hero spells are explained in the game in mission objective in menu after picking the hero at the start of the game. 

The objective for winning is to destroy all enemy temples in the game.

There is a mana fountain at the center of the map, where heroes will regenerate mana (gas) faster if they are near it (in other words, within the 3 x 3 square dotted by laser marks).

The shop entrancess are located at mid left and mid right areas of the map, left and right of the mana fountain. If you place your hero right next to the shop to the top or bottom it will enter. Spells cannot be used in shop.

The game items and footmen upgrades can be purchased with in-game money called coins (which are actually death counters, not mineral, gas, hero level, or kill number). You can check the coin amount at mid bottom (6' o clock) by moving the dark templar to the Hero Status Update beacon, which will also show other statistics such as available spells (which usually have cool down period after casting), hero level, and heal availability (which also has cool down period) at base temple. Coins can be acquired simply by fighting and killing enemy units.

The same dark templar at mid bottom (6 'o clock) is caster for potions. Your hero must enter shop in person and buy the potions, and then the dark templar must move to the adjacent beacon to the potions to cast them.

Heroes cannot cast spells within shop.

At mid left area of map (9 'o clock) there is also another dark templar, which is a masser. It can send footmen/troops to individual player bases, or to the 4 spots around the center of the map. The 4 beacons to the spots around the center of the map are located to the right.

At mid left area of map (9 'o clock) are also located upgraded buildings for the hero's attack. Every time the hero levels up, it gets 1000 mineral. Footmen get +0 upgrades.

At mid left area of map (9 'o clock) is also located the starport, which is the hero spell console. In order to cast a spell, you just need to build a unit at starport.
At the player base, there is also a beacon for Footmen Upgrade. 15 coins are required, and the hero needs to move to the beacon to activate the upgrade. 

At the player base is also the heal beacon. Hero enters heal then must wait 20 seconds for heal to complete. It will exit automatically. Heal cannot be spammed, and there is a cool down period before heal can be used again.
09/29/23
========

victory condition fixed

09/29/23

File Details
Footmen Frenzy V ...
(528.4 KB)
View Changelog
Version 28.9 Complete