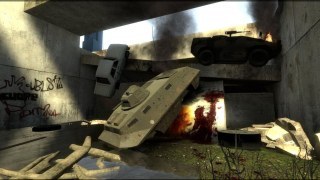 DE_Runoff_hotrap
You are downloading as a guest.
The extended gallery contains images from all community members.
Hi! I present to you my map "de_runoff_hotrap" for "Counter-Strike: Source" – a huge and atmospheric map for real hardcore players (–bomb/diffuse mission; download below).
I worked much on this map. I hope for you will be exciting to play. -)
I am game developer, but in such way I accumulate experience in level-design and keep fit.


This map is created on the basis of map from "Half-Life 2 Deathmatch" – just I have taken a level with almost empty walls and removed the nonworking elements and made a playable map for "Counter-Strike: Source".
So here is everything you need to play, plus special ambient sound, also I added a tactical places for snipers or for a sudden attack, plus some "landmarks" and even a map for radar.
I made more destructible objects, including destructible columns and some walls.
Plus, I made the bridge from point "B" to fall after the explosion and it is completely destroyed in real time.
And at the point "A" the main computer of power station also will break and fall after the explosion.
Plus added new effects (electrical discharges) and sound-fx to the power station.

I significantly expanded the area of action – there is three parts of the map that were previously inaccessible. So, yeah – it's a really huge map! ;)
I introduced two crows which flies In the sky and they can be shot with any weapon (the birds don`t exists in Counter-Strike, so I took them from Half-Life 2 and I made them to fly on the trajectories).
I also seriously edited navigation paths of bots, that to be more interesting to play with them.
Plus is increased significantly the optimization.
Also for this map I introduced a special gameplay element, named as "Hot Trap" (that I invented earlier for my map "cs_lockdown_hotrap").

Press on "Manual Download" and just download the archive. :)
------------------------------------------
Background story of the map:
– In the country there is a big chaos! The political opposition began open rebellion. It feels like the Apocalypse is near.
Some small terrorist groups, who call themselves as rebels, are now engaged in a serious subversion.
Now you're on the power station (electricity generation station, power plant), near the border of the country, not far from City 17 (-yeah, from "Half-Life 2" ;) – is visible the citadel). This station is temporarily closed and working at half capacity.
According to the story of this map, terrorists attack the power station. But the anti-terrorists in the urgent order everything around mined with explosive barrels and so making "hot traps".
Use hot traps – fry the ass of your virtual opponents!
Powerful weapons and crafty tactics will make you cool and dangerous.
Also, Special Forces are very well armed. Good trophies are waiting for you inside! ;)
Have a good hunting! :)
07/03/17
========
   -New destructible columns and walls.
   -Also completely destructible bridge, which falls in real time after explosion.
   -New fog effects and new electric discharge effects.

File Details
DE_Runoff_hotrap.zip
(46.7 MB)
View Changelog
Version 2.0 Complete