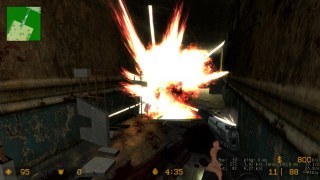 Ghervas examples maps (bsp + vmf included)
You are downloading as a guest.
The extended gallery contains images from all community members.
- Hi! My name is Dmitry Ghervas. I am game developer, but sometimes I do level design for some existing games, to gather experience or to keep fit.
Welcome to my maps-examples, each one made by me in a few hours or days (depending on complexity) as examples for learning for beginners. Yes, in this archive are four maps, each having something special:
- There is handmade destructible objects (2 types), plus a few rooms with a ventilation

 system & corridors between them + exploding barrels + sun+sun spot.
- Also there is a "3D skybox" with citadel from "Half-Life 2" (+sky_camera). Plus buildings for the background, plus monitors on which you can see the citadel with electric discharge effects, plus flying objects around the citadel. A pool with the effect of water, steam and hardened air. Plus a springboard (with spring fx-action) for jumping into the water.
And also many other objects and effects that you can save as prefabs, modify and use on your own maps.
Ok, also the beginners can find in archive the original map in "vmf" format (with other stuff on it) for editing, learning and free using.
Include your imagination and create for your pleasure the maps of any size and of any shape, inspired from real life or just invented by you from scratch.
Enjoy, amigos! :)

Other Notes:
Maximal number of players on this maps: 32 (real players, or 31 bots & 1 real player).
But is desirable no more than 16 players (real players, or 15 bots & 1 real player).
Recommended 10 players (real players, or 9 bots & 1 real player).

Dev notes: Hey, after compilation of map, inside the game, in console write "buildcubemaps" and Submit (pause), after, write "mat_hdr_enabled 0" and again write "buildcubemaps" and Submit.  After rebuilding, close the game and enter again inside of CS:S.
If you create a "nav" file from scratch or delete the old "nav" file and just enter on map with bots – so the "nav" file will be done automatically. If you test the map and want to edit it again in Hammer Editor, so don`t forget to  build again the cubemaps (see above, ok) and after, for remade good "nav" file, just write in console the following commands: "sv
Update-2 (now 4 examples-maps, BSP+VMF included)

    New Map "gh_storageblow-de_example3" (bomb/defuse)
    New Map "gh_storagescape-cs_example4" (hostage rescue)
    On this new maps were added new handmade destructible objects as columns
    On new maps were added three different locations (which are united with the
File Details
Ghervas_examples-...
(21.2 MB)
View Changelog
Version 1.0 Complete