Reviews for DEAD MALL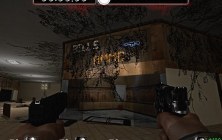 Pros:

Full detailed
Cool

Cons:

Small
Some Nav error's

Conclusion:

Nice map but may be little bigger and fix the Nav error's
Good Job!

Pros:

Cool
fun
Its a Mall
detailed

Cons:

Pretty sure there are nav errors in here


Conclusion:

good map, but zombies couldnt get to some places, and i could easily hold out. Only reason i lost here is because i accidentally fell of the upper lever.
End of results.