Reviews for Build Map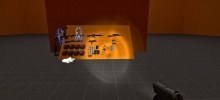 Pros:

- Its A big map
- The Building seems to disappear when i start the horde and then reappear after a few minutes like an elevator nice


Cons:

- empty space
- i use my l4d1 barricade builder to make some buildings or towers XDD

Conclusion:

nice and big map but kinda empty . .. .
End of results.