Reviews for Teen Angst Zoey: L4D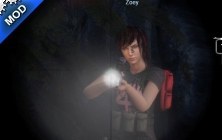 Pros:

-She looks very cute (though Zoey always looks cute)
-Love the crazy socks. Reminds me of beta Zoey 
-Cool looking new hair-do
-Love the whole outfit especially the mini skirt and ammo vest
-Facial animations work flawlessly
-Adds variety for Zoey fans
-Looks so much better ported into L4D1 with the miles better animations and posture. 

Cons:

-I wish there was an optional version with her ponytail
-None other than that

Conclusion:

Like I said in the cons, a separate ponytail version of this model would make it perfect for me. I find myself wishing a lot while playing that I could have Zoey in this outfit, but with her ponytail instead of the new hair-do. Adding some kind of color to her ponytail hair would make it even better too, I would never uninstall it or not use it. Awesome model :)

This review was posted before the latest release.

Pros:

makes zoey look younger
fps arms that are perfect with no bugs that ive seen
her hair looks awesome and had physics

Cons:

the only thing i don't like are the ammo patches

Conclusion:

An awesome model with great and fitting textures. Im currantly using it but the only thing i dont like are the ammo patches and gear. if you removed them then it would be even more awesome than it already is

This review was posted before the latest release.
End of results.