Reviews for Dead Center (L4D1)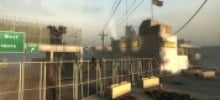 Pros:

Pretty much like original
A real sunny campaign is what L4D1 needed so much

Cons:

Tons of downloading, good thing I finally changed my hard drive to bigger one :)
Throwables only in finale
Pills only in health stations + 1 bottle in hotel, in front of elevator in trash can
Bots hardly pick up anything and don't keep up at all (while I'm at 2nd floor trying to get gas can, bots are running for pills lying on table)
They are really useless when it comes to an event – when I was running with cola, bots just stood in front of shop
Gas cans are almost impossible to pick up (oddly enough, doesn't apply to cans in finale)
Respawning gas cans in finale, so sometimes it's just better to put 6 to 8 gas cans and then wait until closest gas cans respawn
Instead of doing some weirdly flickering broken laser sights it would be better to just not put anything there (eventually ammo pile)
No health packs in Whitaker's shop

Conclusion:

Had to cheat in finale when counter hit 10 as bots were much more interested in pills rather than covering me and letting themselves cover, which was quickly punished by Hunter and I didn't want to again make this deadly run.
Waiting for fixes and next campaigns. 

Pros:

Quite like the original

Feels excellent in L4D

Cons:

Not enough dialogue, but i know that is still coming.

Watching the original finale ending and this one, the race car needs more air time before the credits.  

Conclusion:

Excellent conversion I am very impressed :)

Pros:

- very similar to the original campaign
- pathfinding was ok

Cons:

- not many throwables

Conclusion:

Congratulations on a very professional job. My only suggestions would be to add a few molos and pipes and maybe a dialog at the beginning and in the finale elevator.
End of results.