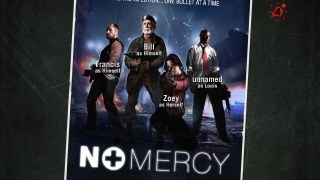 Survive in the Hospital No Mercy
Sharing is temporarily disabled
How to survive in the hospital no mercy?
Well first of all I just want to say that as you discover how to survive in the following maps we will try to help you with a guide, let's start.

1-when they reappear in the hospital place, everyone must perform molotov since the pipebomb will not serve as much help to a boomer and many zombies, including the tank and among other special infected cases, also all must carry a shotgun when it appears a tank all the survivors as fast, that yes all must shoot to him next so that it dies faster and does not do that nobody sea hurt.

2-Everyone should stay in this place that we will show you in the following image:
Once all have been given in this place to survive the 3 survivors should stay there while 1 goes and activate the elevator to start the game and return to the position that was in the next image.

3-Try to survive as much as you can use the Molotov when necessary, example: a boomer has vomited a partner of yours or also when a tank comes with a wave of zombies since spending it unnecessarily will bring consequences as time progresses, try to cover each other because when you go forward the time will come more hunter and smoker to kill them.

4-Do not waste the kit unless they are about to die since using it before would be a waste because then they have to find another try to use the pills better for the time being, remember to use a kit when they are about to die not before.

5-Try that only a friend speaks by microphone and so can synchronize in search of ammunition for the shotgun and not only spend shotgun bullets but also the guns use them when the zombies are away because using long distance shotgun does not help.

6-Well once you have followed these steps will help you survive and win gold medal by unlocking then by the achievement as I said before I will look for more ways to survive on the other maps I will do what I can I promise.

THANK YOU FOR READING MY GUIDE I HOPE TO HELP YOU MUCH AND ACHIEVE YOUR ACHIEVEMENTS I WISH YOU LUCK GOODBYE.