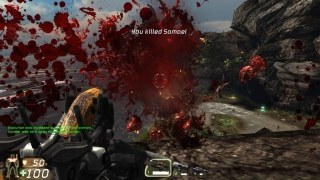 Liandri Hacker
You are downloading as a guest.
The extended gallery contains images from all community members.
The main features of the weapon are:

* Primary fire blade attack - can slice heads off and eviscerate corpses.
* Secondary fire shock blast - very effective for destroying vehicles (and enemies on foot), can propel the player firing it backwards.
* Mutator that replaces the Impact Hammer with this Hacker weapon.


* Configurable secondary fire throwback - see below for more details!

I. With the weapon equipped, type "setthrust -value" into the console (without quotes) and then press return. So, for example:

setthrust -5000

The default value is -1200. Don't forget to put the minus in, otherwise the weapon won't have much of an effect...

To reset the thrust, simply type "resetthrust" into the console and hit return.

---
II. Open up UTHacker.ini in your Config folder (found in My Games/Unreal Tournament 3/UTGame) and look for the heading [Hacker.UTWeap_Hacker]

You will see the following:

[Hacker.UTWeap_Hacker]
BackwardsThrust=-1200.000000

Simply change this value to whatever you want to use, and again, don't forget the minus!

There is a mutator provided called "Hacker - Replace Impact Hammer" that will work just fine, as the Hacker was more or less designed as a replacement for the Hammer.

You can also choose to use Epic's "Weapon Replacement Mutator" to replace any weapon you want with the Hacker, if you have a certain longing for the old Hammer...

Alternatively, you can use the console command "giveweapon" - here's the correct syntax for the weapon:

giveweapon hacker.utweap_hacker - Will give you the Hacker


CONFIGURABLE DAMAGE: Some will undoubtedly feel that the weapon is way too overpowered (even though it's a gas-powered chainsaw..!), so in UTHacker.ini file you will find four entries underneath [Hacker.UTWeap_Hacker]:

PrimaryDamage=15.000000
PrimaryDamageHS=30.000000
SecondaryDamage=55.000000
SecondaryDamageHS=75.000000

The HS denotes headshot damage (when the weapon hits the "head" area of an enemy). Feel free to tweak these values as you see fit!
10/09/14
========

No revision notes have been added by the developer.
File Details
hackerv2.7.zip
(844.4 KB)
View Changelog
Version 2.7 Final
Feedback
Be the first to post a comment!