Reviews for trade_minecraft_anvil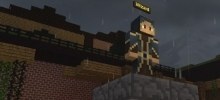 Pros:

Great map for small servers
Fits about 18-24 players
Nice special effects & detail (bird flies away when shot :D)
Good map division & fairness
Nice textures
Good for Melee only

Cons:

Could be bigger

Conclusion:

This map is amazing. So get it now!
Great for any trade server!

This review was posted before the latest release.
End of results.