Reviews for Deadly Dust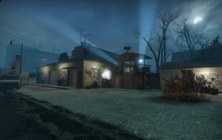 Pros:

Nice details

Slightly challenging

Nice dispersal of items.

Small detail, but I loves the airplane flying overhead when you leave the crash site.

Cons:

Despite the description saying this campaign consists of two maps, there is only one. 

No health packs at the beginning, but they're found fairly quickly, so not a big deal.

Missing glow or warning that opening theater door triggers alarm. 

Conclusion:

I can't really make too solid of a conclusion seeing as how this is abandoned and only one map, but if you want fun little quickie, I'd give it a shot. 
End of results.