Reviews for Day Break (Old L4D1 Alpha)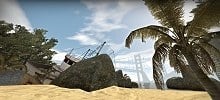 Great Incomplete Campaign

PROS

Poster
Decent and well made, brilliant urban environments
Perfect map design/detail
Warm feel atmosphere
Custom textures/models (especially cars)
Perfect weapon/item balance setting
Panic event in map 2
Many Tanks
Lot of hordes
Perfect bot's NAV/AI
No bugs/glitches

CONS

Not finished
Not move water in river
Bots can't recognize to ladders
Sometimes bot get stuck in some areas
A bit poor ammo in map 2

Pros:

Good setting
Great visuals

Cons:

No NAV...wtf
Not fun

Conclusion:

Why did you release this when it needs SO much more work done?

Pros:

*got to love that day time feeling
*good work on the apocalypse feeling
*fairly good NAV mesh


Cons:

*some small minor NAV errors
*the map seem's bland in alot of areas


Conclusion:

A rather neat map, and the other reviewers should have read his description. there are only 2 maps complete. And those 2 maps, are actually good and fun to play on.
End of results.