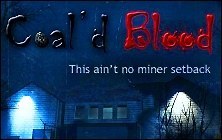 Coal'd Blood
You are downloading as a guest.
The extended gallery contains images from all community members.
The campaign starts in an abandoned bed and breakfast and leads the survivors down into an old abandoned coal mine. The survivors eventually find their way out the other side of the cave to be rescued by a passing news chopper.
So much potential, could be a lot better.

**Played on Advanced & Expert**

---PROS---
1) Excellent map design.
2) Exploration is something worth doing.
3) Nice terrain, no flat areas.
4) Nice rescue building.
5) No glitching/bugs.

---CONS---
1) Terrible bots. They're probably the worst bots I've ever played with and that takes A LOT out of a map. If you're playing this on multiplayer, then you're alright, but don't expect a fun solo gameplay with bots in this campaign. Absolutely terrible. Bad movements, when I get attacked by a special they just stand next to me and do nothing. I've seen this problem as a part of other reviews as well, so I guess it's not just me.
2) The lack of supplies in the safe rooms can add to the challenge but again, not when you're playing alone, bad move.
3) And after all the bot frustration, the helicopter comes and you have a tank coming in front of it, blocking your road to freedom. I know that could be random, but that's bad design right there.
4) No radio sounds.

Final Grade: C+. This has so much potential, but the execution is mediocre. The bot part is what hurts this map a lot, but you also can't ignore the lack of supplies in the first 2 maps. The design and overall aesthetic is incredible, but that's pretty much it. The rescue map is the easiest of all 4, but you need a bit of luck when the rescue helicopter arrives, ESPECIALLY on harder difficulties.
File Details
View Changelog
Version 7.0 Complete