Reviews for Left 4 Dead 2 Beta Pack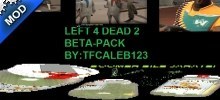 Pros:

-Good skin textures.


Cons:

-Nick kinda looks a bit..Odd as the Spy
-The Bile should be a thicker green.

Conclusion:

I know there may be more cons than pros, but those are just minor things that can be fixed. Overall the skins are pretty detailed to match the characters of L4D2. Credit to the creators of these skin textures.
End of results.