Reviews for koth_blueberries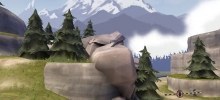 Pros:

Variety of environments like the usual TF2 style (open areas and closed areas, not just one of the two)
Nice skybox
Adds a different theme to game, instead of the normal badlands and dustbowls.

Cons:

None, but I wish I knew how to enable it for bot play.

Conclusion:

A very nice map, keeping in touch with TF2 layout but adding a new, less dusty environment.
End of results.