Reviews for I Hate Mountains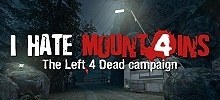 Pros:

great map
well detailed

Cons:

ammo and the escape place is far from each other so it's hard when you camp near the radio place and want to refill ammo (for me, it's not too good)

Conclusion:

nice and there is two way in this map so you can choose the way you want.. 

Pros:

Great Textures
Nice Background Sound (Ambience)
I loved the Climbing the Manor

Cons:

In the finale the seaplane did not fly it just dissapeared into oblivion

Conclusion:

Great Campaign nice job I hat mountains team!

Pros:

Good ambient (+3)
Excellent history (+5)
I love the Lumberyard Evacuation (+2)

Cons:

Unoriginal final (-0.3)

Conclusion:

Excellent campaign, congratulations!

Pros:

Excellent length
Very realistic details.
Multiple paths. Not linear.
Challenging without being ridiculous.
Encourages teamwork.
Good story.

Cons:

Not easily played with bots.

Conclusion:

This has been a wonderful campaign to play with my friends. I don't reccomend this if you're playing with bot teamates unless you are very familiar with the map and events. The atmosphere is perfect and the details are impressive. Keep up the good work!

Pros:

-A beautiful setting
-Realistic geography
-Multiple routes to each goal on every level
-Delightfully frightening atmosphere
-Urges the player to explore
-Perfect difficulty
-A fun story

Cons:

-Only the very rare occasion when NPCs are nowhere to be found.(Not game-breaking, and not a problem)

Conclusion:

I had an absolutely great time with this campaign, and found myself lagging behind looking at the scenery or wandering through the many inlets and outlets of landscape. The maps had an entirely professional, realistic, and exciting feel to each of them in their own respect. This is easily one of the best out there.

Pros:

Excellent scenery, just the right amount of difficulty.

Cons:

Would play it on a difficulty harder than normal next time.

Conclusion:

More than one path to take in many cases, excellent scenery, varying terrain. I was genuinely startled a few times, and the finale was spectacular. 

Pros:

Loads of fun
Interesting maps
Very direct, the path is always marked (Except in areas where it's not supposed to be, such as the mansion and the catacomb areas!)

Cons:

Sometimes the NPCs will get stuck and drag behind, but I just went on without them and they caught up.

Conclusion:

This is an amazing campaign! The maps are very well designed and the whole atmosphere of this campaign is just great. Had an awesome time playing it and it became an instant favorite.

Pros:

Environment is so great, there is so much details everywhere.
Bots are good.
Weapon and ammo placement are good.
Long maps.
Nice crescendos

Cons:

Can get lost a lot in maps 3-4
Very hard at expert.

Conclusion:

Loved this one, it was hard but really fun! I will replay it often.

Pros:

-Scripted Survivor Dialogue.
-No supply issues.
-Amazing environment.
-Campaign instructions in the van.
-Plenty of detail.
-Large and flexible finale.
-Nice airboat plane!

Cons:

-Bots can get lost in the Manor.
-Rolling Crescendo event doesn't work all that well in L4D; try giving the Survivors a few breaks in between when they try to run to the helipad.
-Finale Minigun needs a bit more flexibility.
-I thought I only saw 3 Health Kits in the last level's safe room.
-A little easy to get lost.
-A bit too dark.
-Francis' comment at the intro. Rather keep those lines within the rare run through Crash Course, or out of the game entirely.

Conclusion:

A massive Campaign that came to critical acclaim. Most cons are personal issues, or the odd gameplay balance fix.

Pros:

It's better than most other maps I have(including the valve official maps)
It's as close to open world as l4d can achieve
just the right amount of every item in it.
very good details. even the manor's backyard was more detailed than the main paths of no mercy.
unique finale holdout point layout, giving full view of where most of the infected spawns, yet hard to kill them off from the same place
minigun placement on finale was no less than perfect. made perfect sense too, as it's the only sensible place to place it on
the manor tells a story. the ppl that used to live was fighting hard to fend the zombies off, but inevitably failed.
after a lot of playthroughs, I only encountered one bug. this is as perfect as perfect gets(l4d terms)

Cons:

no sequel? -_-

Conclusion:

this map got me speechless, hooked, and asking for more! I wish more campaigns were as well made as this.

Pros:

Lengthy campaign 
Top notch map design
unique crescendo moment in chapter two
New escape route in finale


Cons:

Can be slightly confusing navigating the forest but it's not too much of a problem.

Conclusion:

If you're looking for a campaign that holds up against the original four campaigns I HIGHLY recommend you check out this campaign. 

Pros:

-Second chapter is perfect.
-Detailed graphics
-Many alternate roads and giving you choice to chose where to go
-Great atmosphere


Cons:

-Nothing

Conclusion:

Best  Campaign I have played yet. (Mejor incluso que las campañas originales, un guión muy trabajado, una historia creible, escenarios muy detallados, [el segudo es perfecto], varias "sorpresas" durante la campaña, posibilidad de tomar caminos diferentes, grafitis muy grandes, esta campaña lo tiene todo, se lleva un 98 porque tengo la esperanza  que todavía alguien pueda colgar una campaña  mejor, pero por lo jugado hasta ahora se merece un 100 )

Pros:

- This is perfect.Enough said.
- Best immersion i've had in any custom campaign, i spent alot of time gawking at the scenery.
- 2nd Chapter wa really fun.
- Everything in general is really balanced.

Cons:

- Nothing comes to mind.

Conclusion:

This is an EXCELLENT campaign, Very professional and better than some Valve campaigns in my opinion. If your on the fence about downloading it, download it now and play it!One of the best custom campaigns made so far if not the best!

Pros:

-Good map
-Many Details
-Many alternate roads and giving you choice to chose where to go
-Like the weapon system.

Cons:

-At last map, at the begining, some times tank spawn at start of it, you have no place to run.

Conclusion:

Good map, worth of downloading.

Pros:

-Very easy to download, install, and play.

-Huge attention to detail.

-Chicago Ted is awesome. :3

-Compatible with both Left 4 Dead 1 and Left 4 Dead 2.

-Features the original survivors.

-So much too explore, especially the forests.

-Francis does hate everything!

-Believable plot line.

Cons:

-Easy to get lost in the catacombs. I ended up doubling back to the saferoom on one occasion.

-Bots can be really dumb sometimes, but it's a community map, so it's sort of expected at times.

-You can't make Louis yell "Pills Here!".

Conclusion:

All in all, the most terrific map I've ever played, and more. I would absolutely love you guys if you did a second one.

Pros:

Excellent design
Large maps with varied routes
Great atmosphere
Challenging without being frustrating
In SP Advanced mode the bots worked well enough to complete the campaign with all 4 survivors escaping (maybe I'll even try SP Expert!)

Cons:

I wanted even more!

Conclusion:

It's clear from the moment it loads that this campaign has been designed by games students and professionals. It oozes detail on a par with the 4 original L4D campaigns and plays exceptionally well. Great stuff.
End of results.