Reviews for Death Aboard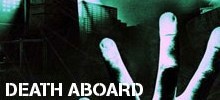 Pros:

Available on L4D1.
Great custom music.
Not too dense or dry of supplies.
Memorable environments.

Cons:

Bots can get stuck on Map 3 (around the optional door).
Optional door in Map 3 is somewhat pointless.
Difficulty ramps up on Map 4.
Tanks can be extremely lethal on Maps 4 and 5.

Conclusion:

An unforgettable campaign, most people would have started off with this masterpiece and others should start with it.

Pros:

looks very fantastic
not a campaign where you get lost
not to crazy with items everywhere
playable with bots 
fun
final was awesome and funny at end

Cons:

too many hordes
alot of boomers
final is a bit to huge

Conclusion:

this is a good campaign with minor flaws but a dang good end result,i recommend this campaign alot

Pros:

Hi I'm ExpensivecatMR the reviewer now this Campaign 
Is very hard if you an expert on Left4dead1 then you must have finished this game.. This is an really good campaign but it's not in my top 5 campaign I'd really like to play.

Cons:

•Well the music is not very scary or get's you in the game
•And it not scary.

Conclusion:

Overall i think this game is an expert normal playable game.. if you're in to scenery  which involve prisons and stuff you like this game Thank you. Bye.I'll give this an 8.1

Pros:

+ Memorable locations with fantastic visuals.
+ A very original collection of settings that all blend together flawlessly.
+ Great pacing and difficulty.  Official quality.
+ Original music for the entire campaign.
+ Fantastic events and finale, with a great escape sequence.

Cons:

-While the Map 2 electric puzzle is nice, it is a little unclear that's what you're meant to do on a first play.
- Lack of ragdolls on Map 4 (though honestly it's such an old map, if you were to ever fix this now I'd be sad lol.  It entertains me a little to have the zombies become INSTANTLY VAPOURISED by my shotgun blasts).
- Finale can drag on as zombies work all the way up the cliffs to reach you.  On the flipside it is very fun to snipe the tank as much as possible before he reaches you on harder difficulties.

Conclusion:

Just thought I'd come back and review some old favourites since I recently played Left 4 Dead 1 again.

While this is from earlier days before even Left 4 Dead 2 was out, thus it doesn't have much clever or fancy in terms of scripted events or puzzles like many recent campaigns tend to have, it's still one of the best and a must-play for any fan of classic Left 4 Dead action.  One of the best custom campaigns for Left 4 Dead 1 by a long shot (and it's Left 4 Dead 2 remake is just as fun).  On par with Valve's own original official Left 4 Dead 1 maps.

Pros:

Beautiful level design, not at all linear. 
Looked really nice.
Was at the edge of my seat the whole time.
Decent Variety of locations not just the same old gray room 

Cons:

Nothing I can think of.

Conclusion:

Amazing campaign many things right with it nothing wrong with. I'd say it would easily rival a Valve campaign.

Pros:

_Nice idea :)
_In a prison...original...
_Realistic environment
_No bugs
_Original boat who is special and pretty cool
_Good effect of the dark
_Good sounds
_...AND THANKS FOR THAT! GOOD BOTS!!!!! (almost...but  still good)


Cons:

_prison...near a boat station?
_Some default inside the boat
_Bots teleport their selfs to save you...WTF?!


Conclusion:

Nice campain with nice ideas.
Good sounds and no big bugs!

Pros:

-Good map design, hard to get lost and always had a good idea of where I was going.
-Funny finale vehicle and the finale itself was fairly unique.
- The ship was unique aswell, I liked the whole tilt in the level, very disorientating but made it more immersive.
-Car alarm event was good.
- Had no trouble with bots which was excellent.

Cons:

- Alot of little things come to mind but are too hard for me to list.
- Not very believable in some areas like the prison especially.
-Needs alot more detail, some areas were very basic, nearly empty rooms.

Conclusion:

It was an okay campign, good parts but it has aged considerably  in my opinion but solid, challenging and enjoyable. Nice work.

Pros:

Awesome Custom Music

Hillarious Finale

Beautiful atmosphere

Cons:

The Jailyard and Ship is sometimes confusing

Bots sometimes get caught up in the enviroment

Conclusion:

This map is a love hate for me...for starters the Jailyard was confusing as heck and the ship was a bit confusing as well but as long as you take a second to get your bearings its easy to navigate out. Idk if this was the first custom map because I only recently joined but if this is this has got to be the most modest and well recieved map I yet to play

Pros:

Still remains challenging after all this time!
Custom soundtrack!
Almost flawless bot navigation and zombie spawning/routes.
Design and layout are still top notch.
Very well polished from beginning to end.
Plays great on co-op as well as versus.
Epic finale!

Cons:

The balloon still looks silly.
Due to the age of the campaign, some areas don't seem as detailed anymore compared to new campaigns.

Conclusion:

One of the first custom campaigns ever, still shines! Death Aboard remains challenging, well designed and highly polished till this day. It set the standard for all the other custom campaigns to come. It was also the first to ever use a custom soundtrack. What strikes me the most is that the bot navigation and zombie spawning/routes are pretty much flawless, which is a real rarity. When zombies attack, they can literally come from anywhere and SI seem to navigate without problems. The design and layout are still top notch and the finale remains as epic as when I first played it back in 2008! Lastly it plays great on co-op as well as versus.

I really don't have any problems with this campaign but I'll admit that I never really liked the balloon rescue. It seemed silly then and it still does. I always imagined this rescue being so much cooler if there was like a submarine in it or something. Lastly due to the age of the campaign some areas don't seem as detailed anymore compared to new campaigns.

Overall this remains a true classic in every sense of the word and if you've never played it, shame on you and click that download button now! :-)

Also it receives a slightly higher rating because this is the original L4D1 version. :-)

Pros:

-No gameplay issues for the most part.
-No supply issues.
-Moderate difficulty.
-Believable environment.
-Interesting finale.
-AI usually functional.

Cons:

-I can still hear sounds when the credits roll.
-Second Tier Weapons available too early (they can be found in a hidden room in Map 1!).
-No scripted dialogue.
-Supplies do not appear in Safe Houses until the next level is loaded (minor, but still notable).
-Second Map's Crescendo Event needs a notice to turn on the power in order to get through the gate.
-Bots may fall down the manholes in Map 2, injuring themselves.
-A Bot may get stuck at the gate in Map 3.
-Finale may be a little too big; Tanks can punch the Survivors off the cliffs easily!
-Is it me, or do Bots tend to teleport off the cliff to their death during the Finale at times?

Conclusion:

The first Campaign I've downloaded for L4D, and one of the worthiest entries of all time. Please don't pull the plug on this campaign, and continue to debug it!

Pros:

- The boat level was complex 
- Cool enviroment 
- Awesome finale 
- Nice rendering for the water 
- Lighting sets the theme for the campaign
- Very orignal

Cons:

- The bots dont as respond as well 
- Boat level was litte confusing
- Very few tanks 
- Escape vechile takes a while to come 
- Massive hoard comes when the escape vechile lands 

Conclusion:

To conclude, this is the best campaign i played! 

This review was posted before the latest release.

Pros:

- I love the idea of being stuck on a ship that has a prison
- LOTS of maps!
- Each map is very different
- The element of winding mazes and never knowing what's around the corner is great
- LOVE, LOVE, LOVE the lighthouse finale
- Interesting element of running through a tilted ship

Cons:

- Could use some NPCs
- My music glitched on the finale
- Could use more interactive features
- Would like to see the day version on L4D1

Conclusion:

Overall, this map is definitely worth downloading! If you're unsure about downloading and trying it, the finale is worth the download as it has a very extensive map with it.

This review was posted before the latest release.

Pros:

-Very large environment.                                                       

Cons:

The finale, even in advanced difficulty, is IMPOSSIBLE.

Conclusion:

Besides the finale, it is possible though hard. This was my favorite custom map.

This review was posted before the latest release.

Pros:

The 4th map
the 5th map
music queues

Cons:

A ballon at a ship port when there are high up buildings seems odd
movement on the ship is awkward
prison didn't feel like a prison

Conclusion:

Before I say anything else I will try to tell you how good the 4th map is .... I love that map so much I am worried I might get it pregnant.
The 5th level design is genius, the only things I could find wrong with it were a missing path bug (if you stand on the boxes on the pier tanks would target you but were unable to get up) and that it was a little odd that a ballon would get to a ship pier when there are high up buildings where he could dock.
The first 3 levels are good too but they simply were nothing special. You have alternate routes, a few panic events and a prison without cells. I have to stress this, they are not bad they simply are in the shadow of the 4th and 5th map.
My conclusion: Download it, if they had voice acting you would assume they came from Valve.

This review was posted before the latest release.

Pros:

Fantastic level design
Long enough
The Finale

Cons:

Lack of music
Not that fun after a while
At some times, a little confusing

Conclusion:

A good campaign, but to be honest, not that fun. Some moments where superb, however, and the ship level was really well-designed. The early levels where sometimes hard to navigate, but there are lots of directions to next safe house. Good campaign but i don't think I'll play it more than once.

This review was posted before the latest release.

Pros:

Very great design

great rescue Baloon

Awesome features

Cons:

None

Conclusion:

Good map it deserves 1,000,000 downloads

This review was posted before the latest release.

Pros:

Looks amazing.
So much new stuff and all of it top quality.
Really well paced with everything in the right places and events well spaced.
It's just plain superb.

Cons:

None.

Conclusion:

Play it, play it, play it! Really! Just go and play it!!

This review was posted before the latest release.

Pros:

-Amazing custom content.
-Great detail in the shipwreck, cliff, and prison.


Cons:

-Clipping issues.
-The shipwreck made me disorientated.
-The balloon was a nice touch, but the first time you play it you have to find where the balloon comes, and that involves running from the top of the lighthouse to the dock. It's a real pain running down those stairs with specials, commons, and Tanks coming at you.

Conclusion:

Great campaign, only a few minor issues.

This review was posted before the latest release.
End of results.