Reviews for One 4 Nine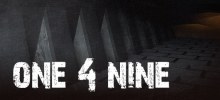 Exceptional

--PROS--
-Intro.
-Great environments.
-The creator cared about the details and that's a big deal.
-The story was good.
-Great bot navigation and play overall.
-Long campaign.
-Majestic rescue environment!
-Nice visual effect when rescue fight begins.
-Good weapon/item/ammo balance.
-Great rescue scene.

                  --CONS--
-Some standard tank spawn points would make it extremely hard, even impossible to complete on expert.
-What was the ending about? Didn't get that...

One of Perfect Campaigns

PROS

Intro
Greatest Outro
Poster. especially ending credit poster
Fantastic desert environments
Well-made and perfect map design/detail
Decent and SF Feel atmosphere
Story
Very creative
Perfect ammo/weapon/item balance
Many Tanks/Witches
Quite long
Perfect Bot's NAV/AI
Finale and rescue
Freaky sight effect in finale area
No bugs/glitches

CONS

A bit easy

Awesome, just awesome.

This is an awesome map.  By far, the best mod I have played.   Loved the levels, really long and challenging.  The mystery of finding and entering the Tomb, LOL!  Brilliant.  Loved the ending.  Try this map if you haven't.   Really good work done on this.

Pros:

- Excellent level design.
- Some good adrenaline pumping      spots.
- Great story concept.
- Totally replayable.
- Found it challenging.
- Spooky !

Cons:

- The ending was confusing.
- Bots got stuck in areas.
- I was ready to shot Bill in the face if, he said COVER ME ! One more time !
- Music screws up once and awhile.

Conclusion:

All in all a great campaign ! I would have given it a 5/5, except for the ending. When I finish my campaign I can only hope it half as good. I would highly recommend it !

Pros:

-Beautiful level designs
-Good length
-Original Design


Cons:

-The ending can be a bit confusing to some
-Bots sometimes didn't follow and got stuck in areas


Conclusion:

This is a wonderful campaign, I was actually frightened at some parts. the level designs are just completely and utterly brilliant. In conclusion, this campaign is worth the downloads even if you don't understand the ending. 

This review was posted before the latest release.

Pros:

_Nice Campain
_Nice Level
_Cool Design 
_FINALLY!!!!BOTS COME FOR THE ELEVATOR!!!AND IT WORKS! (I've did too much campain with elevator bugs...)
_Original
_The first time i was fearing in left 4 dead
_The last level futurist design is really cool.
_The desert...hell yeah.
_Strange ending but the animation is freaking cool.
_Long campain very long!
_The story you can follow on the walls are really cool, that's a good point!

Cons:

_Bots sometimes forget medipacks
_The ending is...WTF!?!? (you will see...you will see...)
_Long campain...very long! (yeah sometimes it's boring)


Conclusion:

This campain is for the moment the best I've played.
Only few little bugs to set and i can say that valve should put it OFFICIAL!
The story hid in the texts on walls are really cool, and the originality of the ending is amazing. (also weird like indian movies WTF...) 
and finally, elevators don't bug! Thanks God they Work!


This review was posted before the latest release.

Pros:

Nice attention to details in the environment 
Good length
Has a creepy back story told through graffiti written on walls throughout the campaign.  

Cons:

Bots as usual are troublesome.
The ending is... Eh, strange to say the least...

Conclusion:

Good map overall with some nice level design.
Recommended for all

This review was posted before the latest release.

Pros:

-Excellent level detail. 
-Very lengthy
-Unoriginal, different feel

Cons:

-Too few medkits
-Too few ammo placements
-Too few pipe bombs and molotovs.
-Too few survivor closets (too far)
-Finale coloration difficult to see anything
-Finale area too open and plain.
-Bot navigational problems.

Conclusion:

This map was fun. The feel of it was different then others and it was great playing something different.
How ever there were many things holding it back. There were not enough item placements. Majority of the time ammo was depleted before another ammo pickup. Bots had trouble getting to a certain areas and navigating. The finales weird coloration made it difficult to play and the area was not detailed, just open. All in all, the level design was excellet.

This review was posted before the latest release.

Pros:

Very realistic.
Very long and the textures were highly detailed.
Colorful finale and cool ending.
Story very well explained.
Some textures and sounds are CUSTOM.


Cons:

The ending kinda confused me...
Too few pipebombs and molotovs.
In the last chapter, when you need to climb a big ladder to move on? 2 bots jumped off the ladder and incap themselves while one of them was hanging off the edge.


Conclusion:

This campaign is...a MASTERPIECE! I had a great time playing this campaign.
Everything worked like the wind, and the most important thing for me it was on Left 4 Dead 1!
Had a lot of fun playing this one.
Like i said, the ending sequence was odd...
 
Great job, Kev! 
100 points!! 


This review was posted before the latest release.

Pros:

- this is a masterpiece
- like valve's maps(except for the weapons and kits)
- realistic
- good feel

Cons:

- none

Conclusion:

This has become one of my best campaigns ever since it came out!
It had something new (desert) , everything worked fine , fun to play , and it was for l4d1!
Great job Kev...keep em coming ;)

This review was posted before the latest release.

Pros:

-Great design and hard work
-Surprising crescendo parts  
-exciting horror looking themes
-great detail to maps
-Awesome finale very interesting
-loved the finale ending
-Maps were exceptionally long and fun!


Cons:

-Bots stopped following at one point
-i got lost a little, more hints on where to go
-Finale could confuse newer players
-how did they escape?
-Finale could have been harder

Conclusion:

This campaign was very interesting and gives you a good horror theme to the game. There are a lot of custom writing and ideas put into this and it was excellent. I did not really find any errors with this at all only some pointers i highly recommend downloading!

This review was posted before the latest release.

Pros:

great object placement
superb pacing
great variation
all 5 maps felt new and fresh

Cons:

can only think of one, the ending

the whole campain was fab, but the ending was just short of also being amazing, not taking anything away from it though, it was still good

Conclusion:

i had more fun plying this than valves own DLC efforts for l4d1 and 2, great job guys, you have many talents, i hope you are making more ;)

This review was posted before the latest release.

Pros:

Well thought out and put together maps
Limited access to powerful guns makes first 3 levels challenging and exciting
Limited access to ammo meant you needed to use pistol often and only switch to main gun in big battles.
Beautiful maps with nice textures.
Original and different story concept.


Cons:

The story concept of going down into a dig site in a military base doesnt make much sense to me.  If I am running away from zombies why trap myself in a lair underground.
Final battle was less stressful than some of the earlier levels.

Conclusion:

I liked it and had a lot of fun playing through it.  The first 3 levels shutting the door to the safe room was a definitely *phew* we made it moment.  Without paying the original voice actors its a bit difficult to convey the reasons for being there.  So I am happy to go with willing suspension of disbelief.  The final scene could have been improved with some upper level galleries dropping zombies opposite the main entrance and allowing specials to attack from higher up. The maps all looked fantastic and had atmospheric lighting.  Definitely worth the download.

This review was posted before the latest release.

Pros:

- Final battle is AWESOME!
- Custom  textures
- Level lightning
- Cool story

Cons:

- Should be more rescue closets
- Beginning need at least SMG
- At the end 1 bot always die lol


Conclusion:

Great map. I like desert texture with custom sound. Also exelent design and story. It was worth plaing it. 

This review was posted before the latest release.

Pros:

- FINAL BATTLE FX
- Custom graffiti
- Excellent level design
- Perfect length
- Plenty of miniguns

Cons:

- The ladder at the end (1 bot died)
- The Ending, real odd
- Lack of pipe bombs
- Too long until you find some more powerful guns
- In the finale battle, 1 of two tanks died before reaching us

Conclusion:

A really great map. Some things bothered me, like the overall lack of throw-able things and the (SPOILER) rescue scene. But a fantastic work, no wonder this was featured. Play this, you won't regret it. 

This review was posted before the latest release.

Pros:

- Custom graffiti.
- Interesting backstory and it's fun trying to figure out where you're going.
- Finale was amazing!
- Scarce resources makes for quite a challenge.
- The custom desert setting and tomb setting was very well done.
- Well designed custom horde events made it very enjoyable.

Cons:

- A couple sound and voice glitches, but nothing too noticable.
- It got a little repetitive in the middle chapters.
- The last chapter, the big ladder you need to climb down to get to the tombs, I had 2 bots jump off and incap themselves, and one was hanging off the edge. They did it each time I played through.
- I found about 4 throwables in the entire campaign. That's way too few.
- Both Tanks I got in the finale were on fire...and I don't know how.

Conclusion:

It was a well made map and it is a very fun campaign. The ending sequence was a little odd, but the finale was epic. Definately worth the download.

This review was posted before the latest release.

Pros:

Interesting graffiti
Novel setting
Gorgeous attention to detail
Interesting twists on maps
Miniguns set up for actual use (yay!)
Most memorable finale ever
Nasty surprise at very start (where's my SMG?)

Cons:

Surprisingly easy once you get Tier 1 weapons (but we _were_ playing on Easy)

Conclusion:

Of the several custom campaigns I've downloaded, I like this one best. Outstanding work.

This review was posted before the latest release.

Pros:

Very challenging, but not too challenging
Beautiful scenery, fun to explore
Such an original idea!
The finale was AMAZING, all those colors


Cons:

takes a while to find health kits and guns at the beginning of the campaign

Conclusion:

Another awesome DLC!
I loved everybit of it!!

This review was posted before the latest release.
End of results.