GC - Skin Ellis: Best Friends Forever
About
Specs
Changelog
Share
Rochelle has finally found a friend for life! pretty boy pink outfit New high quallity made textures matching Rochelles outfit, Pants look less old but still dirty, Same type of shirt but with added detail to the back, new cap(no logo), Ellis has a sun tan concidering hes a native from the south.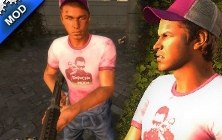 File:
gc_skin_ellis_bestfriendsforever.vpk
Last Updated:
08/08/11
Version:
1.2 (Final)
Views:
7,105
Be the first person to provide a video for this add-on!
More addons by GameplayCrush