About
Specs
Changelog
Share
It's the released of the original green medkit, Black style ! ST Grant created an OD Green 'World War II' style medkits, a black and a green version of the military first-aid kit. This is the Black Army Medkit !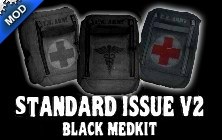 File:
black army medkit.vpk
Last Updated:
08/11/11
Version:
2.0 (Complete)
Views:
10,792
Be the first person to provide a video for this add-on!
More addons by GG Bandit [FR]