GC - Skin Hunter: Quarterback Jason
About
Specs
Changelog
Share
READ CHANGELOG FOR BACKGROUND STORY AND TECHNICAL INFO. Jason always had been a loner and didn't have any friends he liked to keep to himself, he wasn't to bright and never did very well in class, he ...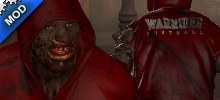 File:
gc_skin_hunter_quarterbackjason.vpk
Last Updated:
09/02/11
Version:
1.0 (Complete)
Views:
14,157
Be the first person to provide a video for this add-on!
More addons by GameplayCrush