About
Specs
Changelog
Reviews (0)
This is a VERY simple reskin i did and was my FIRST ever reskin for Left 4 Dead 2. Note: i did this with Paintdotnet. It has the bad company grenade is on his chest, a bad company 2 logo stamped on his back, and camo pants.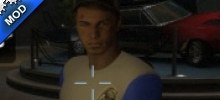 File:
badcompanyellis.vpk
Last Updated:
11/09/11
Version:
0.1 (Complete)
Views:
3,837
Videos for Bad Company Ellis
Be the first person to provide a video for this add-on!
More addons by Full_thr0ttl3