About
Specs
Changelog
Share
After some time, and dealing with cybervermin, here it is. well thanks Cristle1235 for Suiseiseki again, but I'm tired of all these trolls and haters and cyberbullies. Enjoy the models I have ported to source engine.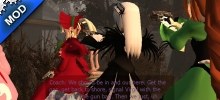 Author:
1337gamer15/Regalia/Amemogura/Cristle1235/MMDfakewings18
File:
survivors rmaiden.vpk
Last Updated:
02/27/12
Version:
1.0 (Complete)
Views:
32,341
Be the first person to provide a video for this add-on!
More addons by 1337gamer15