About
Specs
Changelog
Reviews (3)
Hand drawn safehouse graphics for level completion results. Also includes one completed Infected versus team image. Minigraphics will be next followed by versus graphics.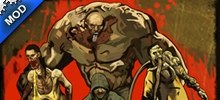 File:
mod_tipgraphic_beta.vpk
Last Updated:
05/26/12
Version:
1.1 (Beta)
Views:
13,059
Videos for Eranthis' Tip Graphics
Be the first person to provide a video for this add-on!
Share Eranthis' Tip Graphics
More addons by EranthisAconite