About
Specs
Changelog
Share
A 5th one!? well ok pretty sure you guys want a 6th one, and a 7th one, and a 8th one, sometimes i wish there wern't so many touhou characters, but to be honest, it actually bothers me if i'm not working on my mods.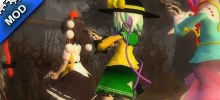 File:
survivors touhou 5.vpk
Last Updated:
04/13/12
Version:
1.0 (Complete)
Views:
19,676
Be the first person to provide a video for this add-on!
More addons by 1337gamer15