Retexturized Katana, changed the metal blade for a wooden blade with an edge simulation, and the handle was designed in burgundy colored wood with some silver trimmings All of this makes it look like a bokken (japanese wooden katana). Update: Corrected the light reflection on the handle and the wooden edge ( now it looks like as if it had varnish, just as originally thought) Now it looks much more real!!! (: Logo by: astroplus Translation by: Shanny Skin mod by: Crissans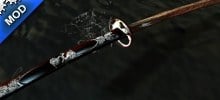 Last Updated:
04/25/12
Version:
1.1 (Complete)
Videos for [mL] Katana Red Bokken
Be the first person to provide a video for this add-on!
Share [mL] Katana Red Bokken
More addons by Crissans